Product Description
 Power Coated Steel Pallet
There are many advantages of using steel pallets over wood or even plastic. Firstly the life time cost of a metal pallet over wood can in many cases can be considerably cheaper. Under normal use a metal pallet can last up to ten times as long as a wooden pallet. In many cases the initial purchase cost can also be cheaper than a plastic equivalent whilst maintaining the longevity and environmental benefits.
Our steel pallets have the characteristics of being light weight whilst having a high loading capacity and strong rigidity. Our pallets offer the flexibility of having access from four ways and are suitable for storage on Pallet Racking using our unique skid-proof structure.
Pallets are supplied from our standard or light duty range with each range having nine different sizes offering our customers more choice depending on the loads that need to be carried.
Our pallets have been tested to the standards determined by GB/T4996-1996 (General purpose flat pallets through transit of goods) and also GB10486-89 (Steel pallets for railway goods traffic). These checks and controls ensure you have the pallet that suits not only your need today but for many years to come .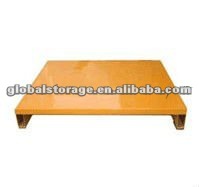 Product Categories : Work Apparatus & Related Equipment